Food news
 One of Northamptonshire's most successful pub restaurants has undergone a change of ownership.  
Adam Gray and wife Amber are now partners at the Red Lion at East Haddon, joining forces with existing owner managers Nick Bonner and Ren Averio. 
Michelin-starred Adam says: 'My wife and I are absolutely delighted to be partners with Nick and Ren at the Red Lion. East Haddon is my home village and where I grew up. As a schoolboy I used to wash pots here over twenty years ago and I started my cooking apprenticeship at the Red Lion while attending Northampton College, before heading out of the county to further my career.
'My aim for the food is to build a simple, affordable British menu using local seasonal ingredients where possible. Hopefully this will also encourage more local producers to let us know about their produce. ''I am very much looking forward to developing the business over the next few years and putting Northamptonshire on the map as a county of culinary distinction.'

Nick took over the Red Lion with his partner Ren in 2006. Since then the restaurant has been refurbished and has built up an enviable reputation for superb food using fresh, high quality and where possible local ingredients.

Also joining the team as head chef is 24-year-old Anthony Horn, who worked with Adam for five years at Rhodes Twenty-four in London. Anthony, who like Nick and Adam was born and brought up in Northampton, gained his catering qualifications at Northampton College before moving to London to start his career at the top end of gourmet restaurant cooking. He is delighted to be returning to his home county to take up his first appointment as head chef.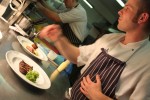 Under Adam's guidance a fabulous new menu has been unveiled, which has been warmly received. The new team at the Red Lion look forward welcoming you for a memorable dining experience. 
For information call (01604) 770223