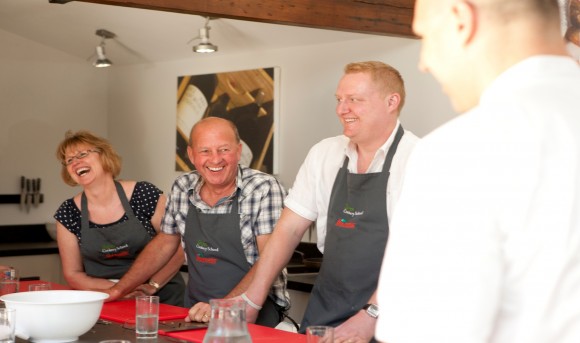 Our corporate cookery events are a great way for you to engage your colleagues and strengthen working relationships.
The emphasis is on fun, relaxation and enjoyment. Your colleagues are encouraged to participate in creating a fabulous meal for each other, maybe enjoying a glass of wine as they cook in our professional kitchen.
Your chef will guide you through your course and you will create many fabulous dishes. You can hire the  kitchen for a day, or part of. We also have a private dining room that can be set up for a formal meeting.  At the end of the day you may wish to wonder around the beautiful gardens, enjoy a drink in the bar, or retire to one of the recently refurbished bedrooms.
A bespoke approach, the day is built around you, your business and what you want to achieve . Menus are designed for each group, timings and format of the day is entirely up to you.

To find out more information please call us on (01604) 621640 to discuss dates and menus.
If you would like to come and view our facilities we would be more than happy to arrange a meeting and give you a tour.